Greetings!
I've received quite a few emails from folks asking where we got the frames we used in our Guest Bedroom, so I thought I'd post a picture that lists the names of the stores they came from today: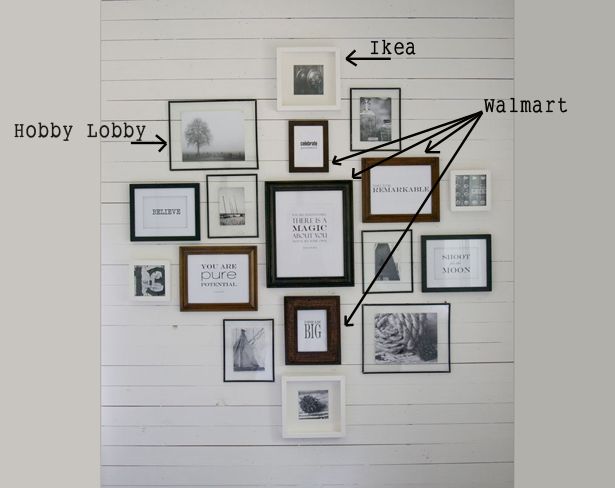 I forgot to point at the two black ones on the far left and right.
Those came from Walmart too.
If you'd like a closer look, you can click on the photo to enlarge it. :-)
(Interested in the art and photography
inside
the frames? Click
HERE
)
-------------------------------------------------------------------------------------
Here are a few more wall grouping ideas I found while searching for inspiration a while back:
1. Striking Sihouettes
Create a personalized look by framing your family members silhouettes. Use decorative scrapbooking paper, wrapping paper, or even wallpaper to create a unique grouping full of color and pattern.
Photo: Country Living
2. Natural Wonders
Bring the outdoors in with a nature-inspired wall grouping. Use vintage pictures of food,
birds
, or
botanical
to make a natural statement in your home.
Photo: Joesph's Cottage
Photo: Country Living
Photo: Better Homes and Gardens
3. Pause and Reflect
Display a collection of mirrors to bounce light around the room and create the illusion of more space. To replicate the romantic luster of an antique mirror, check out Martha's
Silver Leaf Mirror Project
for her awesome step-by-step instructions.
Photo: Country Living
-------------------------------------------------------------------------------------
Need help hanging your collection? Here are some tips:
- Before you hang anything, experiment with different layouts on the floor first. Take photos from above as you move things around. This way, you won't have to rely on your memory if you want to go back to a previous arrangement.
- Use newspaper to cut out the shapes of the frames (or objects) you want to use, and then tape them to your wall so you can make sure you're going to like the way your grouping looks
before
you start pounding nails into your walls.
- When in doubt, hang your largest piece in the center and work your way around it using smaller pieces the further out you go.
- For a extra captivating look, mix some interesting objects in with your framed pieces. I love using old keys, letters, numbers, and small vases.
Photos: Pottery Barn
- If you choose to use a variety of different frames, be careful not to use too many that are the same color all in one area of your grouping. Spread the color evenly for a well-balanced look.
-------------------------------------------------------------------------------------
I'll be back soon with a fantastic Valentines Day craft idea and another guest bathroom update. The plot continues to thicken my friends.... :-)