I haven't shared one of my
Virtual Consultations
in a while, so I thought I'd blog about one today.
Who knows?
Maybe it'll help somebody else that's battling with a similar design dilemma!
Dilemma:
How to arrange the furniture in a super small living and dining room that are open to each other.
Mission:
Come up with a great space plan!

Meet Meredith and Nick (and their dog Jack!)...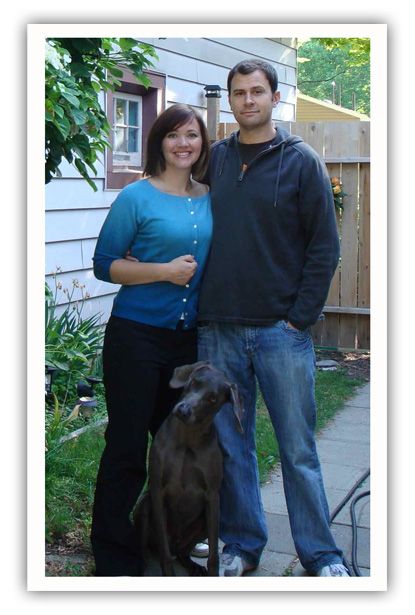 They live in a little house called, "
Tiny Town
", in Canada...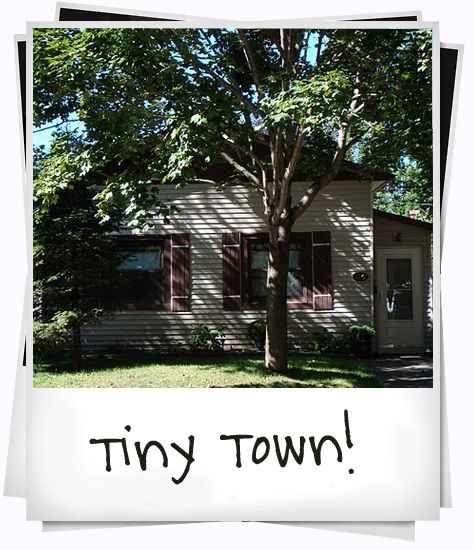 Meredith sent me a letter about their pesky design dilemma...
Meredith also sent me some "Before" photos of Tiny Town...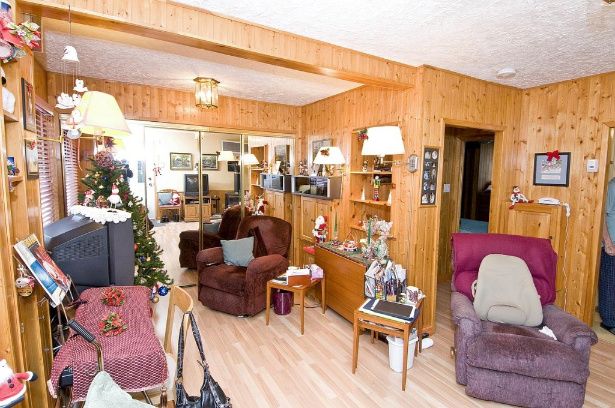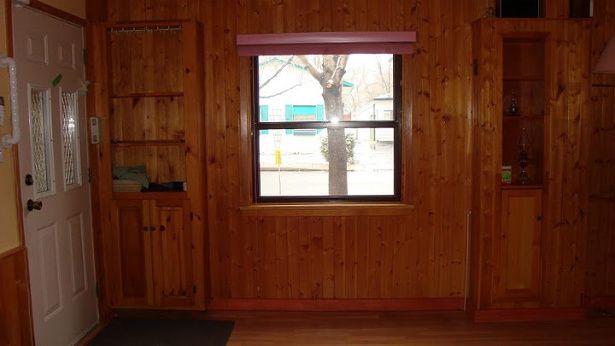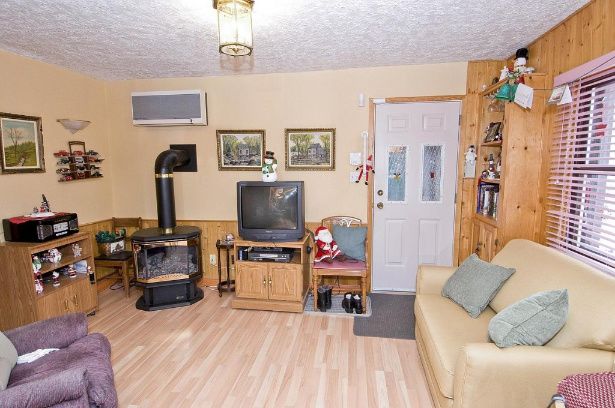 And she sent me some "this is what it looks like now" photos too...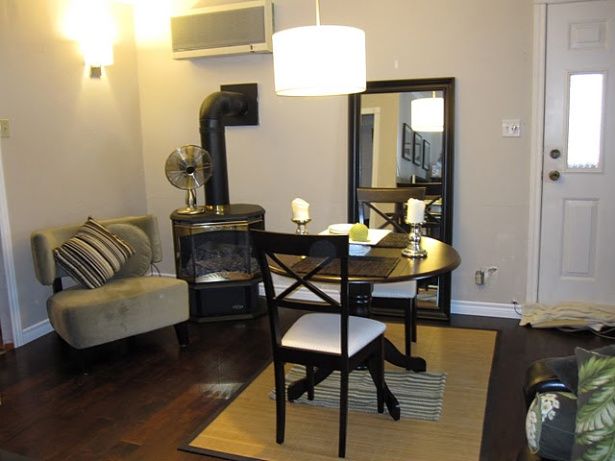 She also sent me a bunch of
awesome
inspiration photos to look at before I started putting together my drawings.
Here are some of the photos she sent me, and what she liked about each of them...
1. Contemporary Coastal


"I love this room! It's almost exactly what I'd like in Tiny Town! TV on the wall, moldings, dark wood and bright light. The mood and layout is bang on."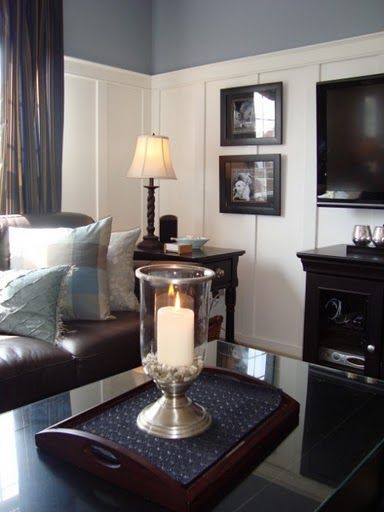 2. Divine Dining
"I'd eat breakfast at this table EVERY day...and maybe not make it to work on time EVERY day ;-) Dream. Dining. Room. From the carpet, to the chairs to the windows, to the table (got it!) to the hydrangeas."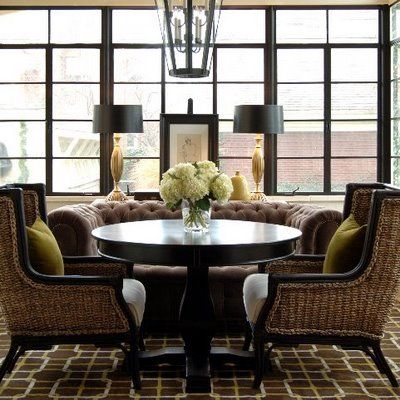 3. Exceptionally Elegant


"Love almost everything about this room except that the colour scheme is a bit too cold for Tiny Town. Oh, and the gold accents aren't me. But the banquette and the easy, breezy feel, the black framed art, the round table and that beige chair (got it!) are wonderful."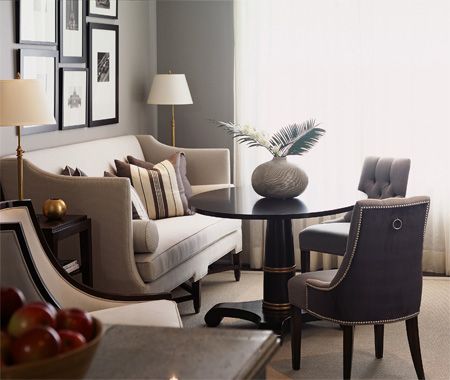 4. Remarkably Reflective
"Ooh ooh ooh! A banquette and a mirrored wall!" :-)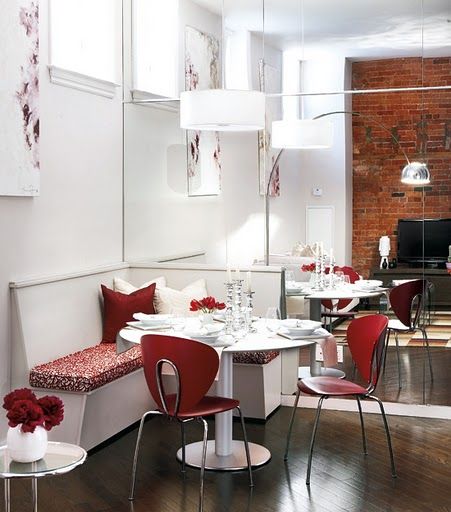 5. Crisp and Clean


"Hydrangeas and built-ins. Two of the finest things in life. Ha ha!"
6. Green Living


Love a lot about this room- including my dream of taking down the wall between the dining room and the kitchen; the green accents, the natural blinds (got 'em), the round table, the comfy chairs, the accent lights and the white, molded windows.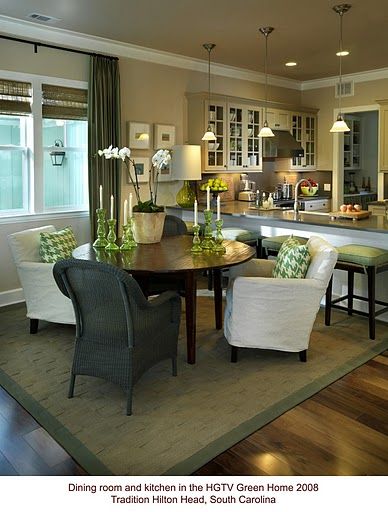 7. Loft Love


"This is just gorgeous, but perhaps not practical for anything in Tiny Town. But wouldn't it be great somewhere to salvage those windows and use them like this loft?!?"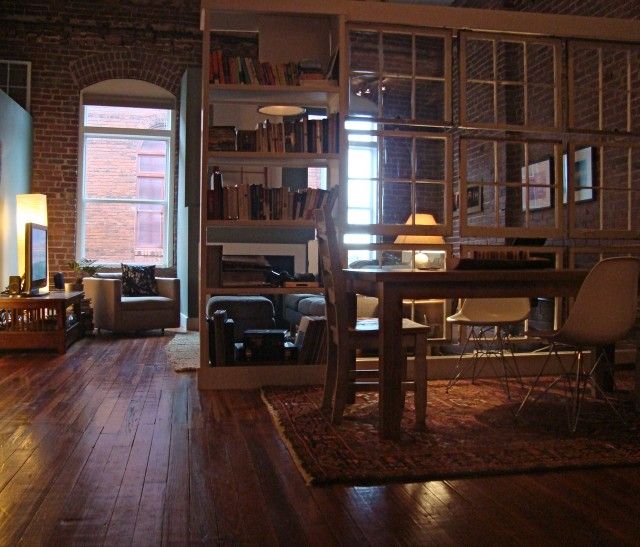 10. Black and White, and Bright All Over


"Storage and a place for a big TV to live (or hide!)."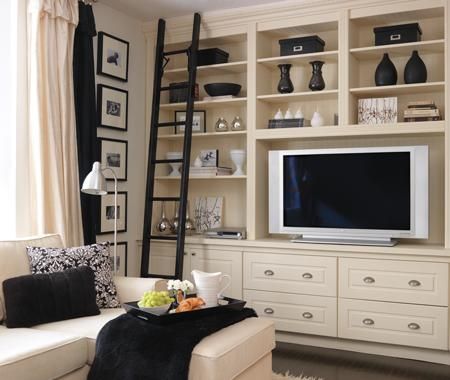 12. Fab Finishing Touches


"Transoms, transoms, transoms. And beachy walls. And of course, the guest bathroom door, (which I did for my bathroom too) and the wonderful sunny light."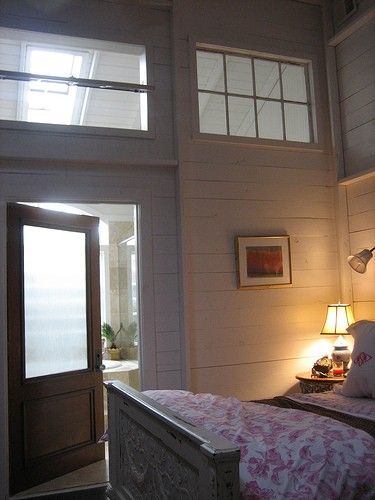 14. Groovy Grid
"Kinda cool. Molding and mirrors. Two things that work well for Tiny Town."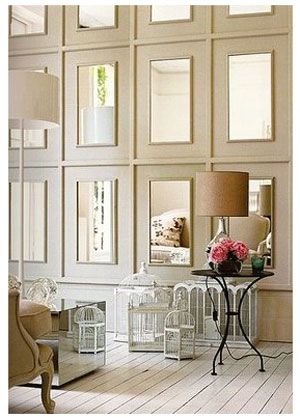 15. Beautiful Bungalow


"I can feel the craftsman style in this one. Thick thick moldings, art work and taupe walls."
16. Smart & Spacious


"Black door. Pears. Visual flow through the rooms. And mini spruce."

Meredith not only sent great inspiration photos, she also sent me a bunch of photos of things they already had that may/or may not work into the new design.
Check 'em out...
They have this super-stylish chair:
A pair of sensational sconces: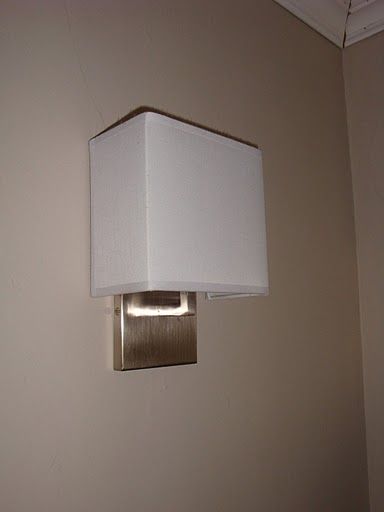 A pretty pendant light:
A handsome, hand-stitched pillow: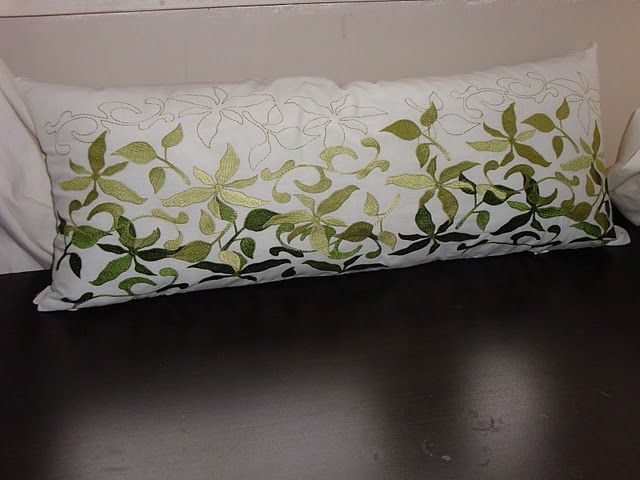 A snazzy glass console table:
And a large, dark-framed mirror: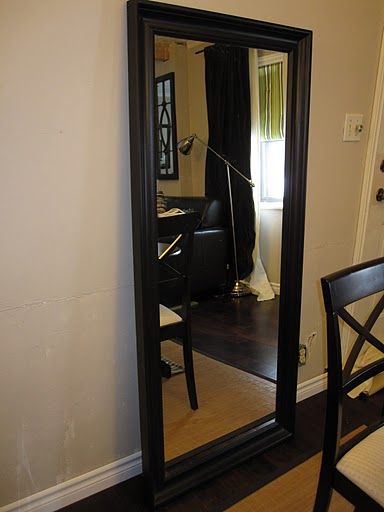 Great stuff huh?!
(I know! I thought so too!)
Anywho, I took all that awesomeness into consideration, and whipped up a new layout for Meredith and Nick (and Jack!) that I thought would solve the "which room is which?" dilemma.
Take a look...
This first drawing doesn't show all the little details (like rugs, art and accessories), but I wanted Meredith and Nick to be able to see how everything was laid out from above.
That's really the best way to work out a rock-solid space plan.
(Don't know how to draw a to-scale floorplan from above? Check out my
E-book
and I'll walk you through the process step-by-step!)
You'll notice I suggested they switch the two rooms around.
It just didn't "feel right" to me to have the dining room right inside the front door.
I also suggested they add a short, yet open, wall between the two rooms.
Now normally I wouldn't ADD a wall in a super small space- but I really thought it was necessary to give their couch something to back up to, so that the fireplace wall could become a true FOCAL WALL.
There isn't a
true focal wall
in the current layout, which is probably why the rooms are struggling to find their identities.
Here's an eye-level view of the "cut-out wall" I added between the two rooms...
(I had to add Jack into this drawing!)
It created the perfect spot to put their leather sofa opposite the fireplace.
And since there wasn't room to sneak in side tables or table lamps, I suggested they use plug-in, wall mounted sconces instead.
Not necessarily the
exact
ones I used in my drawings, but I do think they would work...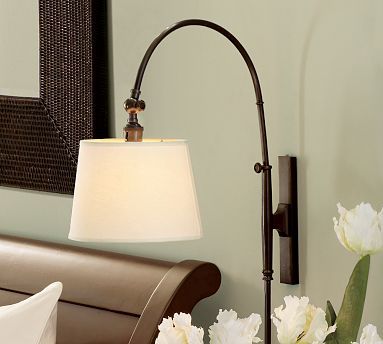 (PotteryBarn.com)
I also suggested she layer a large (8x10) sisal rug underneath her fantastic-looking green one. I think that will just add to the overall luxuriousness of the living room. And since this is the room you see right when you enter the front door, attention to luxurious details is extra-important in here.
Your entry (or living room in this case) should say "Welcome Home, Love! So glad you're here!"
(And for some reason, in my head, it's always said in an English accent. I don't know why. It just is.)

Here's a view of the new "focal wall"...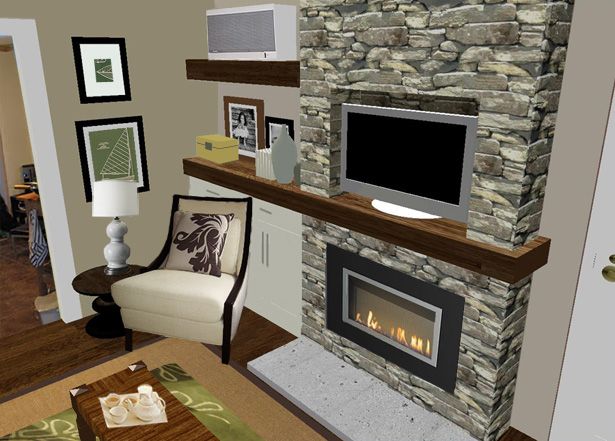 I suggested they build a shallow (12"-14" deep) "false wall", and then clad it in some kind of groovy material (stone, paneling, plastered drywall, etc.)
Then, they could hang a much flatter, direct vent, wall-mount gas fireplace to it and finally get to relax in front of the fire!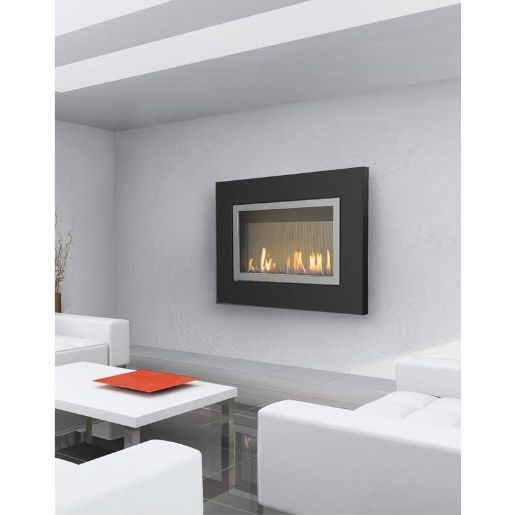 (Direct Vent, Wall Mount Fireplace. Click photo for details.)
They could also create a niche for their flat screen TV too.
That way, both the TV
and
fireplace are on the focal wall.
(The room is definitely too small to have competing focal points!)
And to
really
amp up the charm factor, I thought they might want to explore the option of using reclaimed timber to construct their mantel and chunky floating shelf under the (must-stay) air conditioner.
If reclaimed wood is too hard to find, they could just as easily distress and stain some
new
lumber, like we did for our mantel: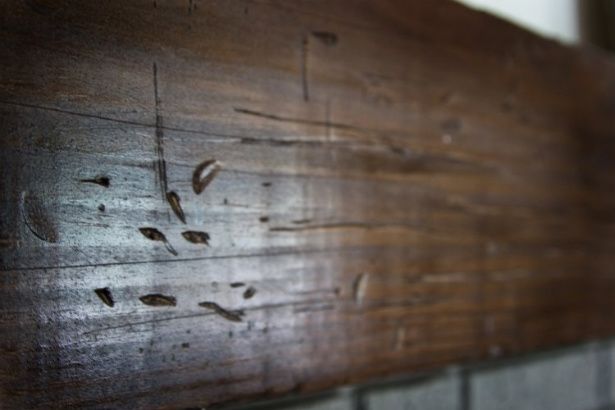 I suggested using a small bench in front of the sofa. One of these might work well...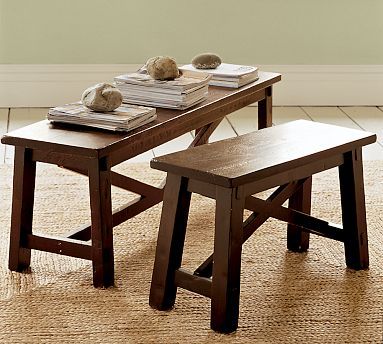 But, if they need more storage, a couple of these might do the trick...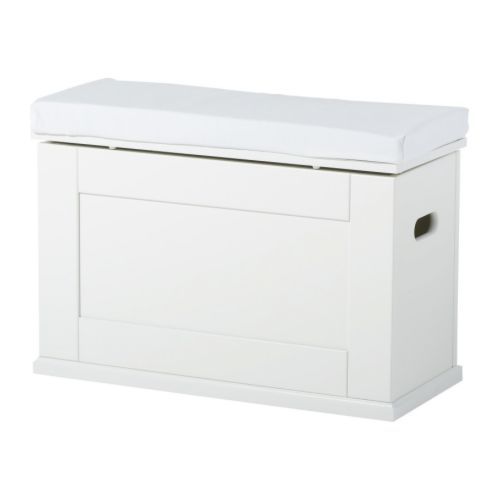 They look a little blah plain white, but you could really go crazy personalizing them. Paint 'em and re-cover the pad on top in the fabric of your choice, and voila!
A pretty place to prop your feet
and
hide your stuff!
And speaking of storage, I also suggested using a couple of these bad boys behind their awesome chair...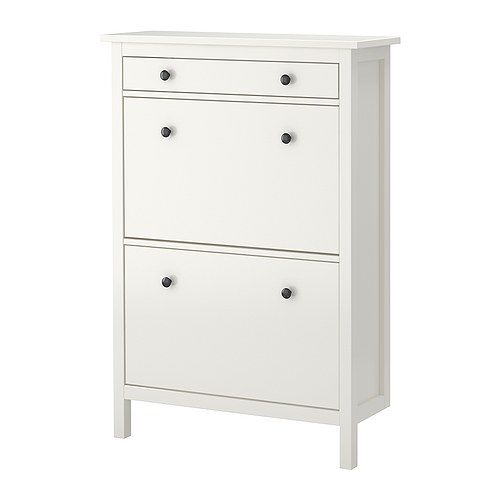 They're only 11-3/4" deep, so they'd work perfectly with the newly-added false wall!
Here's a shot that shows just how shallow they are: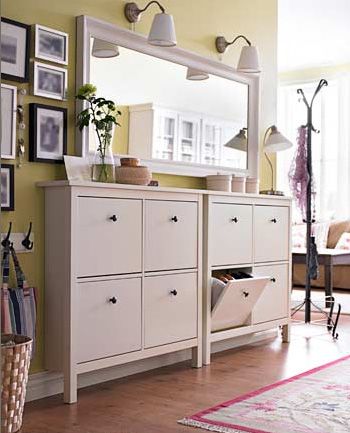 Here's a drawing I did that shows the view from the dining room into the living room...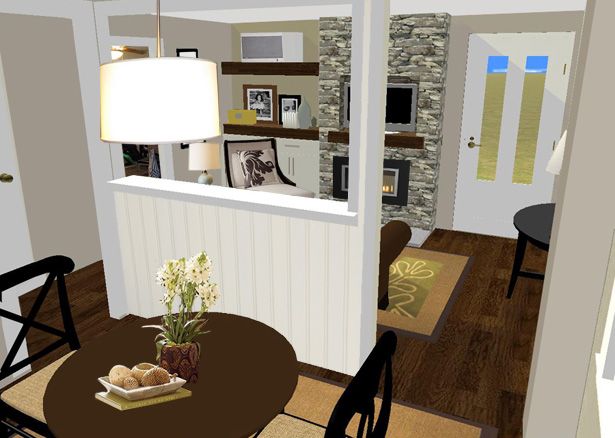 The ledge between the two spaces might actually work as a little "buffet", when they're entertaining. And since Meredith was a fan of wainscoting, I snuck in a little paneling below the ledge too.
On the largest expanse of wall in the dining room, I came up with a few different options for them to choose from.
One idea was to use a shallow sideboard and a large mirror, like I showed in the "Layout" drawing above.
Another idea was to draw inspiration from the floating shelves and the custom-built counter in Jennifer's dining room...
And another idea was to draw inspiration from the "Something's Gotta Give" dining room: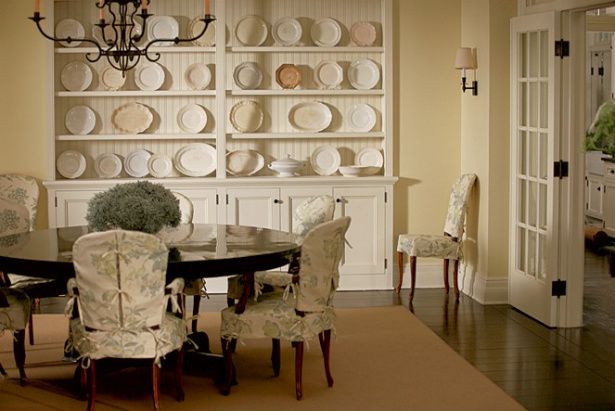 Since Meredith said she loved built-ins, I just had to suggest it!
And if they
reeeeally
wanna open up the space, they could back the shelves with mirror...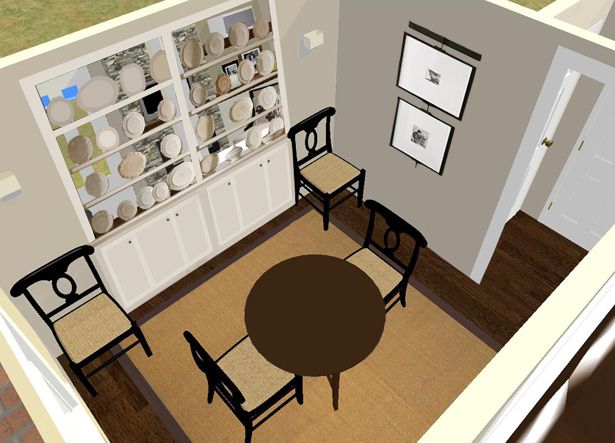 The sky's the limit on that wall. As long as it's shallow, they'll be good to go!

And one last item I thought was important to mention was the piece of furniture near the front door.
I suggested using a
demi lune
table that had some storage in it- something like this would be great: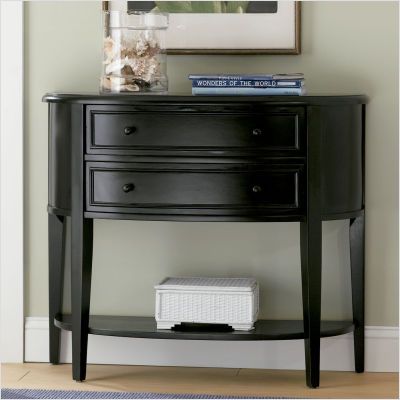 Using something with curved edges in that spot will really soften the transition into and out of the doorways in that area,
and
free up a few extra inches of floor space too.
Always a plus in a super small space!

Finally, just for fun, I thought I'd include a
rough
Presto Chango photo drawing of what once was, and what could be.
(Just move your cursor back and forth over the image below to see the room "magically" transform!)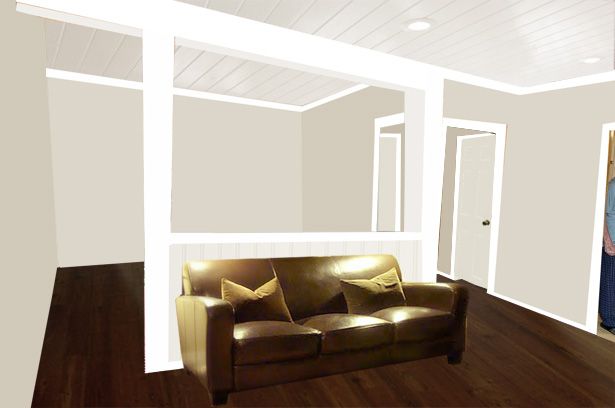 This space was
so much fun
to work on!
I find that the more difficult the design dilemma is, the more I enjoy the challenge!
I knew they were a handy family, and not afraid of construction, but I didn't know if they'd be up for making
all
the changes I suggested in my consultation or not.
So you can imagine my relief when I got this letter back from Meredith...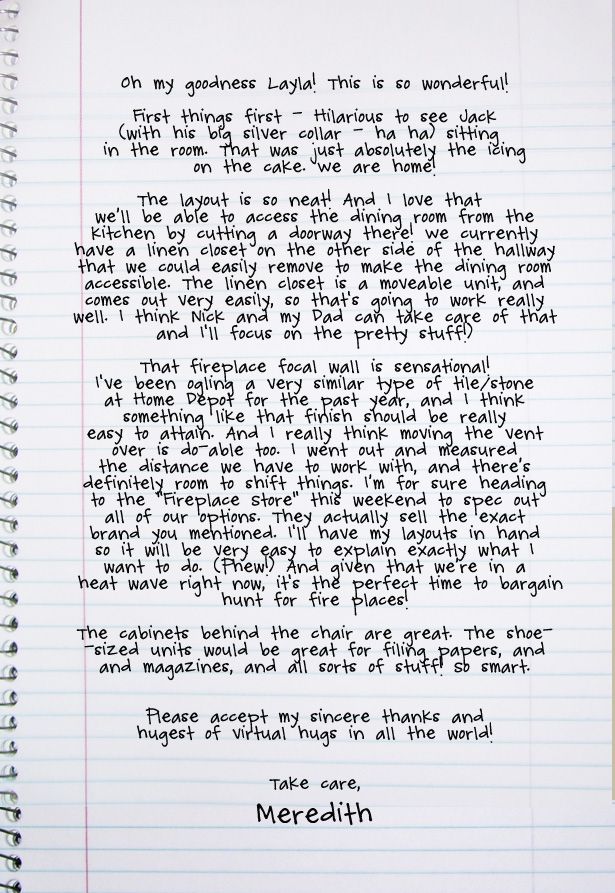 Woo Hoo!
They're gonna do it!
I don't know about you, but I
cannot wait
to see their "After" shots!

PS- If you're on my waiting list for a consultation, I haven't forgotten about you!
I'm working my way down the list, one design dilemma at a time. I appreciate your patience, and I'll continue to "ease on down the re-design road" as best as I can!
-----------------------------------------------------------------------------------
The winner of the
Leen The Graphics Queen
$50 Gift Certificate is...
Lemonade Makin' Mama
Congratulations!
Whenever you're ready to order, feel free to contact Eileen at leenthegraphicsqueen@gmail.com and she'll hook you up with the vinyl of your choice!
-----------------------------------------------------------------------------------
Need space planning help?
Check out my e-book!